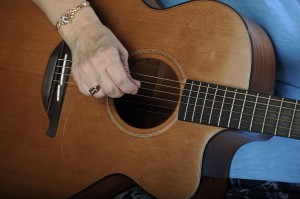 What is Music Therapy is a question that is Music Therapists hear often. Music is one of the oldest elements in healing. Music Therapy is the use of music for therapeutic change or benefit. There are both universal properties such as the myelin fibers in the muscles moving to a music beat, and the flow of gastric juices in the stomach being affected by the type of music being played and individual customizations such as songs for expression of feelings, to change mood, and for community togetherness. Music can be applied to movement, art, and activity to help with expression, social skills and create a sense of belonging and comfort.
Music Therapists get training in music skills including their primary instrument, piano and guitar. The education includes music courses such as Music Theory, and Music History, and Instrument Techniques. Psychology, Sociology, Biology and more advanced Physiology courses are part of the program. All these are brought together in the core Music Therapy coursework including the psycho-biological foundations of musical behavior and recreational music. This education includes how music affects the body, the individual, the community, and social interactions with music. The ways to decide and apply music for therapeutic benefit are at the heart of the core music therapy courses. Behavior modification is a strong component in learning to apply the music therapy tools.
The training is then applied in clinical practicums and a 6 month internship. I was fortunate to have music therapist working in town. I began my experience volunteering in a nursing home my first summer after high school. My first practicum was with developmentally disabled adults. My second practicum was with children with academic challenges. My internship was at Allentown State Hospital in Pennsylvania. I worked with teens, the acutely mentally ill adults and chronically mentally ill adults. Music was the always effective no matter how advanced or how limited the client functioning level.